Invite traders and investors to AMarkets and receive a stable income from their trading activity.
Our compensation rates are among the highest in the industry!
Remuneration rates in USD per lot

Each Agent's compensation is added daily to the Wallet of their personal account, after which it can be withdrawn immediately in any convenient way.
By attracting investors to our PAMM-service, Agents can receive additional compensation in the form of a part of the manager's commissions from profitable trades.
Once a month, AMarkets awards full commissions if the Agent tops 1,000 USD, that's why our affiliates receive 100% of their income.
Agents can build a three-tiered affiliate network, earning income on the trading activity of second and third tiered clients.
Profit sharing among multilevel system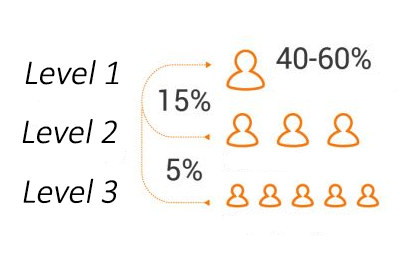 For 10 years, we have been regularly paying commissions to our partners and have paid out more than $12,000,000 in total! Today, the company cooperates with more than 3000 partners around the world!
How much can you earn?
Let's look at a simple example:
You invite and sign up 10 customers with a total capital of 10,000 USD. From this amount you can expect 100 lots of turnover each month. With an average reward rate of 10 USD from 1 lot, you would earn 1,000 USD every month.
Every AMarkets' Partner makes twice as much money!

According to statistics, our partners earn on average about 5-10% of the client's deposit every month.
This isn't the only opportunity with AMarkets: sign up right now and find out how to start earning and continuously increase your income!